Sommelier Wine Awards 2020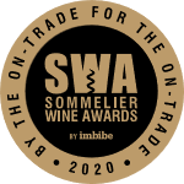 The 2020 Sommelier Wine Awards results are now live, and we're delighted to announce that a phenomenal 276 wines from our portfolio have received an award.
This total makes up over 90% of our submissions this year, and includes 50 gold medals and 56 silver. Alongside these, eight of our wines were awarded special trophies in the 'Critics' Choice' and 'By the Glass' categories; a huge achievement given the quality of wines on show this year. 
Bibendum's Buying Director Andrew Shaw says, "We are so proud to have received our highest ever number of medals in the prestigious Sommelier Wine Awards this year. We are delighted that the specialist judges recognised so many of our producers' wines, from every corner of the planet. It is a testament to our suppliers' commitment to quality, as they strive to produce many of the very best wines available in the UK on-trade market."
We're thrilled that our producers have received this well-deserved recognition from the SWA, and are proud to represent such a fantastic line-up of wines in the UK. As the only competition aimed solely at the UK on-trade, the awards are judged by a leading panel of sommeliers and on-trade buyers. Every winning wine is representative of the very best that is available to restaurants, bars and hotels in today's market.
A full list of our winners can be viewed here, but take a look below to find out which wines really stood out for this year's judges... 
Critics' Choice Award

Vin Jaune Arbois, Domaine de la Pinte
"An incredibly powerful nose fills the glass, with dried apricot and almonds shining through. An oxidative character is backed up by bitter lemon rind and marmalade, and cut with salinity. Brilliantly fresh and uplifting." - Tim Handley, Royal Automobile Club

Heritage Zinfandel, Dry Creek
"Really attractive and appealing, with a soft, gentle nose showing subtle notes of menthol and forest, leading to a rich and elegant palate with gentle tannins and a peppery finish. This is looking for a lightly chargrilled steak, with chargrilled vegetables." - Antoin UaRuairc, UK Midland Sommelier

White Pinot 2016, Litmus
"A plush wine, with some well-integrated toasty elements and toffee, vanilla and pear notes. This can go with heavier dishes, and will develop over time." - Alonso Abed, Trivet

Imperial Panoramic Cava Brut Reserva, Llopart
"Great minerality, as well as pastry and brioche notes. There's lots of fruit too, considering the age, and with much more to come. Complex and balanced." - Michael Driscoll, Careys Manor Hotel & SenSpa

Alpendre Merenzao, Ronsel do Sil 
"This has lovely acidity and a fresh, light structure, with bright red berries and spice to complement the fruit, giving it more complexity." - Jurijs Nemkovs, StreetXO

Les Fourneaux Chablis 1er Cru, Domaine Paul Nicolle
"This is well-made and integrated with citrus at the start, then cream, and a light hazelnut note on the palate, all carried by acidity, and leaving a light, flinty finish." - Tim Handley, Royal Automobile Club

Te Arai Chenin Blanc, Millton Vineyards
"Lively, funky and fun as hell, with cola bottle and honeydew notes. Drink it. Love it." - Harry Crowther, Grape Times UK
By The Glass Award

Malbec, Bodega Argento
"Juicy black cherries, black plums and blueberries, with a touch of green bell pepper and oak notes of toast, smoke and leather." - Adam Michocki, The Man Behind The Curtain