An all-new legacy: Prosecco Rosé and the Bisol family
Since a select few importers introduced Prosecco into the UK in the 1980s, its popularity has skyrocketed. Now a stalwart on drinks lists, this refreshingly fizzy Charmat method sparkler from Northern Italy is a perennial favourite in both the On and Off Trade markets - and, for the first time, its category has expanded.
With rosé wine soaring in popularity, it's almost surprising that pink Prosecco wasn't approved earlier. According to Nielsen, the past three years have seen rosé sparklers rise from £67m to £82m in terms of annual takings, as customer markets search for novelty, fruity flavours, and 'Instagrammable' options. But now, for the first time, Prosecco producers are set to benefit from the pink drinks trend that's taken the world - and social media - by storm.
Around 60% of Prosecco producers were already creating variations of rosé sparkling in some form. But now, with official backing and a swanky, DOC-approved emblem of assured quality and reputation behind them, industry giants such as Bisol are set to take centre stage in the rosé Prosecco revolution.
Rose prosecco - what's the deal?
Approved back in May 2020 by the Italian government and Consorzio, and in November by the EU, rosé Prosecco does - unsurprisingly - have to confer to a few laws that ensure the quality of the name. To provide its pink colour, between 10-15% of Pinot Noir can be added to the blend, alongside the ever-popular Glera used in standard Prosecco. In addition, all wines must undergo a secondary fermentation of at least 60 days prior to release.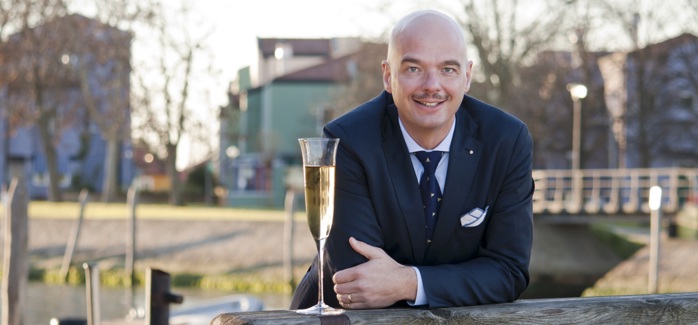 The First Family of Prosecco
Masters of Prosecco, the Bisol family have been cultivating vines in the region for over five centuries - and, in all honesty, what they don't know about the category isn't worth knowing. Since their launch in medieval times, 21 generations of the family have successfully farmed vines, grown grapes, and crafted wines on their own land in Northern Italy. Although separate strands of the family have branched out from the heart of Bisol to launch their own reputable brands, their namesake winery remains one of the best-known - and best-quality - producers of Prosecco in the world.

Bisol's Jeio brand is the fruit of two love stories; firstly, that of the Bisol family for their vineyards, and secondly, that of Giovanna Bisol and her husband Desiderio, affectionately known as 'Jeio'. The range is designed to be captivating and prestigious, and each bottle a true expression of its terroir. In the new Jeio DOC Rosé, Bisol aim to convey a sense of place through their Glera and Pinot Nero grapes, sourcing all the fruit from a unique hamlet in the heart of Valdobbiadene, located between Cortina d'Ampezzo - the 'Queen of the Dolomites' - and Venice. 
Glera's typically refreshing and fruity nature combines perfectly with a 15% blend of elegant, vivacious Pinot Nero, to create a wine that is not only soft and sparkling, but also crunchy and mineral. Fine and creamy, with a persistent perlage, its nose releases refined aromas of rose, lily of the valley, and fresh citrus, all tied up and balanced with wild strawberries on the palate. All in all, it's a perfect representation of the potential of not only the hills of Veneto - but of the burgeoning rosé Prosecco category as a whole. 
You may also like: